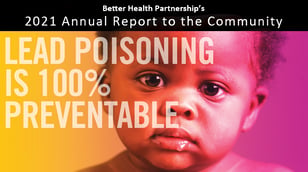 No child should ever be poisoned by lead since lead exposure is completely preventable. According to a 12/7/20 News5Cleveland.com report, in 2019, 2% of Ohio children tested had high lead levels, and that number jumped to nearly 6% in Cuyahoga County and in Cleveland it is even higher at 8.6%.

The Lead Safe Cleveland Coalition is a public-private partnership formed to address the issue of lead poisoning in our community. The coalition is made up of over 400 members, 120 organizations, state and local government, and families impacted by lead. Speakers for this webinar will provide an overview of the coalition's mitigation strategies, including available education and resources, along with regional efforts for improving lead testing rates and follow-up referrals for children who may be at high risk for lead exposure.

This webinar covers how Better Health Partnership's Children's Health Initiative, led by Northeast Ohio's primary care and health and human service providers are contributing to this important effort to elevate children's health in our community.
Event Overview:
Identify collective improvement strategies of the Lead Safe Cleveland Coalition to address lead poisoning in the community
Describe the many ways the Lead Safe Resource Center may be used for the community's lead poisoning prevention efforts
Explain how lead testing and referrals for early intervention help mitigate the negative effects of lead poisoning for children at risk for lead exposure
Describe how healthcare providers are innovating to find best practices to help close gaps in lead testing and follow up care