History of Better Health Partnership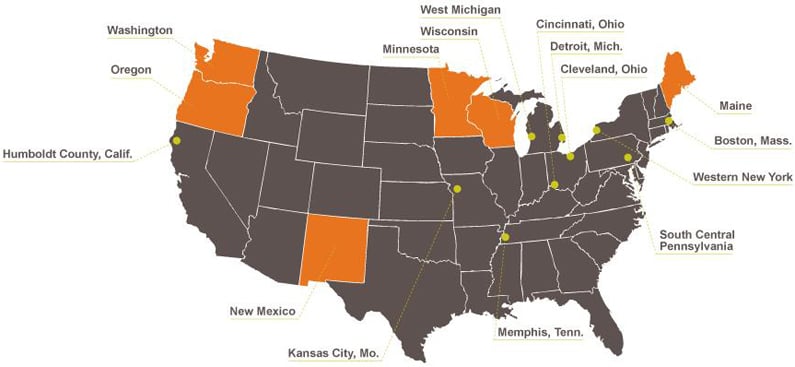 Founded In 2007, Better Health Partnership (originally named Better Health Greater Cleveland), began its work as one of sixteen regional health improvement communities across the United States funded by the Robert Wood Johnson Foundation (RWJF) to implement its' Aligning Forces for Quality Initiative (AF4Q). AF4Q created multi-stakeholder, regional collaboratives intended to promote transparency of healthcare-related metrics and best practice sharing, to better inform stakeholder improvement strategies related to the triple aim: Better Care, Better Health and Lower Costs.

Better Health's administrative offices are located at The MetroHealth System – a Founding member that strongly supports our mission. Other Founding members and early adopters include Health Action Council, Center for Community Solutions, Neighborhood Family Practice and the Cleveland Clinic. In 2010, the organization obtained its' non-profit, 501c3 status to transition from an RWJF grant program to an independent organization dedicated to the mission for achieving data-informed equitable population and community health.

In 2020, with support from the Ohio Commission on Minority Health, First Year Cleveland, Case Western Reserve University, and local Foundations, Better Health Partnership launched the Better Health Pathways HUB to help the most vulnerable people living in our community and our members' high-risk patients obtain access to care and resources to help them meet their complex health, social and economic needs. The Pathways HUB is an evidence-based care coordination model proven to improve health, reduce costs and promote equity.
Evolution of Better Health Partnership
Better Health's strategic priorities strongly align with the ever-evolving healthcare landscape. Our collaborative partners and leaders engage in key health transformation activities as well as advocacy opportunities such as increasing access to health care via the Medicaid Waiver and Expansion program in Ohio. BHP's leadership was instrumental in assisting the Governor's Office of Health Transformation to secure the State Innovation Model federal funding which then further led to the design of the Comprehensive Primary Care Initiative. As our clinical members evolved to include addressing social determinants of health to improve health outcomes, BHP worked with them and others to set up the region's first electronic closed loop referral system to United Way 2-1-1 for patients experiencing chronic conditions and the Pathways Community HUB in Cuyahoga County. We continue to seek out high health impact opportunities going forward, leveraging our collective wisdom, action and voice to create system-level, equitable change in the community.