Better Care

The Better Health Partnership drives high-quality care, and that drives better health.

Better Health

We are transforming health care systems to improve the health of individuals and our community.

Lower Costs

We support value-based payment models to accelerate better care and lower costs.
Registration Now Open for 2-Part Webinar Series

Please join us for a 2-part webinar series,

"Elevating Children's Health - Part 1: Children's Mental Health Initiative Update"

on September 8th from 12 PM - 1PM. This presentation will demonstrate how Better Health Partnership's Children's Health initiative, led by Northeast Ohio's primary care and health and human services providers, continues to forge strategies for improving the health and vitality of all children – including mental and behavioral health strategies to help mitigate the rising rates of these conditions and their negative consequences.

To learn more or to register,

click here

.
County Premature Birth Rates Drop in 2020
For the past two decades, the leading contributing factor to infant deaths in our region has been prematurity. One of First Year Cleveland's priorities is to decrease extreme prematurity in our community and ensure that more babies live to see their first birthday. Results to date are promising as 2020 preliminary data shows an 11.4 preterm birth rate — the lowest rate reported since 2015 which was 14.9! But — we still have work to do as racial disparities persist and the goal for 2020 is to reduce the rate to less than 10 percent.
Better Health Partnership and FYC Action Team 4 members are focusing on this issue by actively:
Conducting Learning Circle programs with birth hospital clinical teams
Improving access to prenatal care and timely interventions to help prevent preterm birth
Addressing social determinants impacting expectant parents by referring pregnant mothers to results-driven interventions like home visiting and the Better Health Pathways Community HUB
The drop in rates is largely due to the combined efforts of all First Year Cleveland activists mobilizing the community to do better and their strategies are working. Thank you to all for your dedication to saving our babies in Cuyahoga County!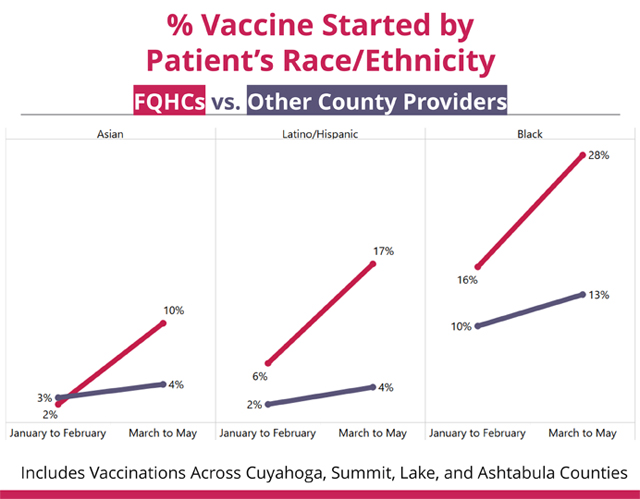 Data Reinforces FQHC's Value in Vaccine Distribution
Cleveland's Community Health Center COVID Services Collaborative – comprised of Asian Services in Action, Inc., Care Alliance Health Centers, Circle Health Services/The Centers, Neighborhood Family Practice, Northeast Ohio Neighborhood Health Services, Inc.(NEON), and Signature Health, Inc. – has been working overtime to boost vaccination rates in underserved communities. In addition to providing vaccines in their health centers, local community health centers have brought vaccinations to a variety of community settings including churches, schools, Cuyahoga Metropolitan Housing Authority (CMHA) facilities, low-income senior housing, and area nonprofits.

Relying on data provided by Better Health Partnership as indicated in the above graph, the tireless efforts of our Federally Qualified Health Center (FQHC) partners have proven to be extremely successful at getting communities of color vaccinated.