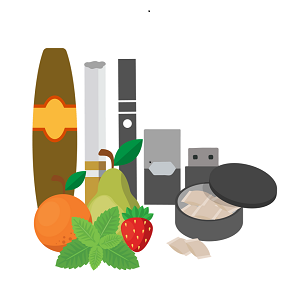 Tobacco Legislation Introduced; Better Health Partnership Supports Coalition Seeking Action
On February 6, Cleveland City Council took a big step toward creating a healthier city with the introduction of legislation that would end the sale of flavored tobacco products, including menthol, and create a tobacco retail license that would keep tobacco products out of the hands of youth. Better Health Partnership supports this bill and is proud to be part of a coalition comprised of more than 40 local and state health, faith, social justice, and community organizations seeking action. This legislation aligns well with Better Health's work with Northeast Ohio health systems to improve youth wellness and better manage conditions, such as asthma, that impact school absenteeism.
Passage of this bill would mark a turning point in the battle against predatory marketing. For decades, the tobacco industry has targeted communities of color with flavored tobacco products. Products such as menthol cigarettes and flavored cigars were intentionally developed to mask the harsh taste of tobacco, promote more frequent use, and result in higher addiction rates. The industry's predatory behavior has had a devastating impact.
Black communities suffer the greatest burden of tobacco-related death, with Black adults 32% more likely to die from heart disease and 45% more likely to die from stroke. Click here to read about a recent Sound of Ideas program featuring Yvonka Hall, MPA, RA, CTTS, Executive Director, Northeast Ohio Black Health Coalition and Better Health Board member and Dr. David Margolius, Director of Public Health, City of Cleveland.
Of concern, similar tactics are now being used to addict children. Kid-friendly flavors including gummy bear, grape crush and cotton candy, often used in non-combustible "e-cigarettes," are designed to hook a new generation of tobacco users. Nearly all (97%) youth e-cigarette users report using flavored products, and the overwhelming majority point to flavored products as their starting point.
To join the coalition of organizations seeking action, email James Meerdink, American Heart Association, at: james.meerdink@heart.org. Cleveland residents are encouraged to let Cleveland City Council members know they support action on this bill by using the America Heart Association's simple email tool.