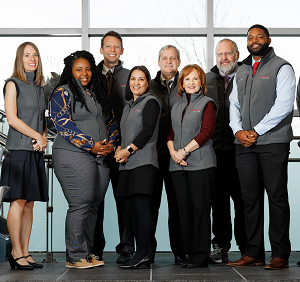 Better Health Partnership Wishes You a Healthy and Prosperous New Year!
The holiday season is in full swing, but before we close out the year, please take time to reflect with us on all that we have collectively accomplished in 2022. Better Health's members and partners continue to share actionable data and best practices to accelerate improvements in health and health equity across Northeast Ohio. Here are highlights of key achievements from our cross-sector collaboration this year and we look forward to our continued partnership with all of you in 2023:
Promoting Health and Health Equity
Working collaboratively with community care agencies and community health workers (CHWs), the Better Health Pathways HUB addresses socio-economic barriers with community residents to help them achieve better physical, social, and behavioral health outcomes. In 2022, our Pathways HUB agencies:

Engaged and helped clients with 720 education pathway opportunities
Ensured that 88% of clients in the HUB who delivered a baby scheduled and attended their postpartum visit
Met more than 1,000 social service referrals needs, including helping clients access food benefits, connect with needed transportation and gain digital access. Click here to learn more.

Better Health helped analyze the highly successful impact of the Dollars for Doses initiative – a collaboration between Greater Cleveland Congregations and The Centers to increase uptake of COVID-19 vaccinations with minority populations – using data displayed on this dashboard.


The Nourishing Beginnings study launched to improve birth outcomes and reduce infant mortality disparities, by providing nutrition and social support to food insecure pregnant individuals and their families. This partnership includes Better Health's Pathways HUB, Case Western Reserve University, First Year Cleveland, and the Greater Cleveland Food Bank and was featured on Channel 5 news.


Advancing Cross-Sector Health Improvement Collaboration
Trusted collaboration, led by invested stakeholders and informed by actionable data is at the heart of what we do at Better Health Partnership. Here are Better Health's child and adult health improvement initiatives being led by our health system members and other community partners:
Together with Case Western Reserve University (CWRU) School of Medicine (SOM), Northeast Ohio Medical University (NEOMED), and Medicaid managed care organizations (MCOs), Better Health is excited to build upon its current Adult Health Leadership Team's work in Northeast Ohio by helping to lead a new Ohio Department of Medicaid MEDTAPP grant initiative – Regional Quality Improvement Hubs in Ohio. This initiative will help build capacity with quality improvement infrastructure and advance implementation of evidence-based best practices in healthcare systems to improve health outcomes and reduce health disparities for the adult Medicaid population experiencing chronic disease in Ohio.


Better Health's Children's Health Leadership Team launched its initial activities as part of a new three-year strategic plan developed to advance youth wellness and improve academic outcomes in Northeast Ohio. Included in this effort are local public schools (Cleveland and Akron), managed care organizations, early education centers, Lead Safe Cleveland, behavioral health providers, and primary care providers. Featured at this year's BHP Learning Collaborative was a session on the strategic partnerships that are forming to advance this important work.


Accelerating Health Value and Community Health Impact
Better Health's north star is to achieve exceptional health value and to eradicate health disparities in Northeast Ohio. While we still have significant work to do in the region, celebrating our collective successes along the way is important.
We are proud to have been among 11 recipients in Ohio

of a Community Impact Award presented by Dominion Energy for our regional impact on health equity. This award uplifted the extensive efforts in the region, spearheaded by community health centers, to ensure equitable access to COVID-19 testing and vaccines – especially for at-risk populations living in underserved communities.


Facilitated by Better Health, bringing local community health centers together monthly to innovate and share best practices with value-based care delivery has resulted in a promising new clinical workflow to improve colon cancer screening rates with minority populations. More information will be shared in the new year about this effort!
Sharing Best Practices and Learning Together
This year we were thrilled to return to an in-person venue for our 2022 BHP Learning Collaborative and

to celebrate our 15th anniversary!

More than 150 people attended BHP's 2022 Learning Collaborative and heard from one of our public health heroes, Dr. Amy Acton, who inspired us with her presentation:

The Leader We All Wish We Had is You

! Be sure to check out her video presentation if you haven't yet.


Uplifting the CHW Workforce
We celebrated Community Health Worker Day on June 6th at a recognition lunch event for more than one hundred CHWs which promoted CHW self-care activities and included the reading of proclamations by Cuyahoga County Executive Armond Budish. This event, in partnership with Cuyahoga Community College and Cleveland State University's School of Nursing, honored the important contributions CHWs make serving our community's most vulnerable residents.


CHWs are at the heart of the Pathways Community HUB model and we can't wait to see where our collective work takes us in the new year, including the activities related to the new $3 million HRSA grant, awarded to MetroHealth to grow Northeast Ohio's CHW capacity! Better Health will play a key role in the planning and implementation of this work over the next three years – including co-leading the Advisory Board beginning in 2023.